MeetMeatLast30

Nope! We offer an assortment of Florida's favorite agricultural products. "Filling a freezer" with pasture-raised proteins is what got us started and what brings people back. 
WHAT'S COMING BACK IN 2023: 

The Giant Play Castle

The Jumping Pillow 

The Super Slide 

The Zip Line

The Fishing Pond 

The Gem Mining Rig 

The Sweet Corn Express Farm Tours 




Kisses from Coal The Donkey

The Tree Mazes


Food Trucks & Concessions

Fresh Farm Produce in The Great Scott Market
Ice On Site For Purchase
WHAT'S NEW: 
VIP Passes & Swag Bags
Corn Maze is OPEN!
Maker's Market 
Speakers/Workshops On Site Both Days
Sweet Corn Prepared By FCA Central FL
Wagon & Cooler Decorating Contest
H Kid's Zone & Kid's Livestock Expo w/ Lil' Bit of Life & Lake Co. GRITS
Bring a Jar for the Peanut Butter Challenge Drop Off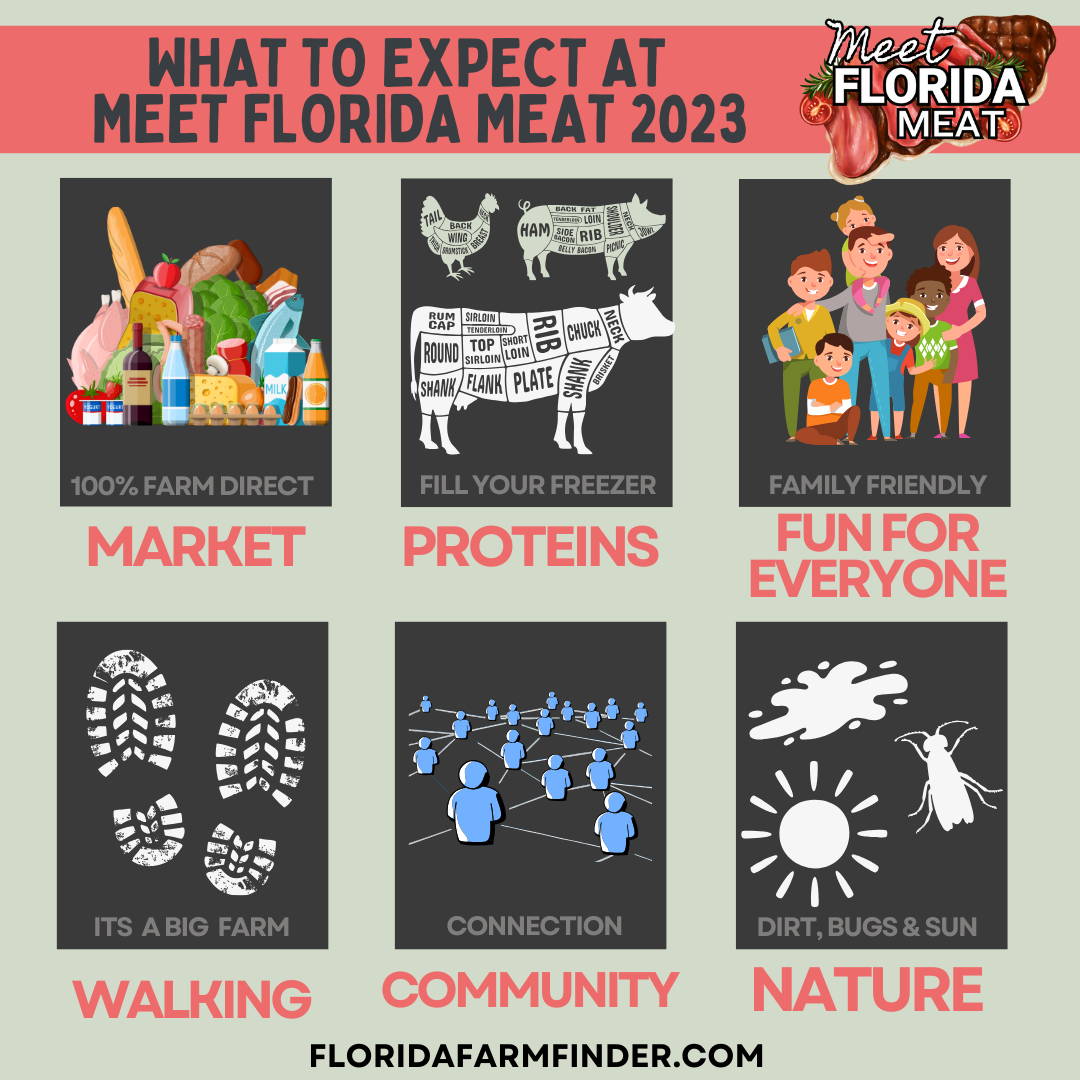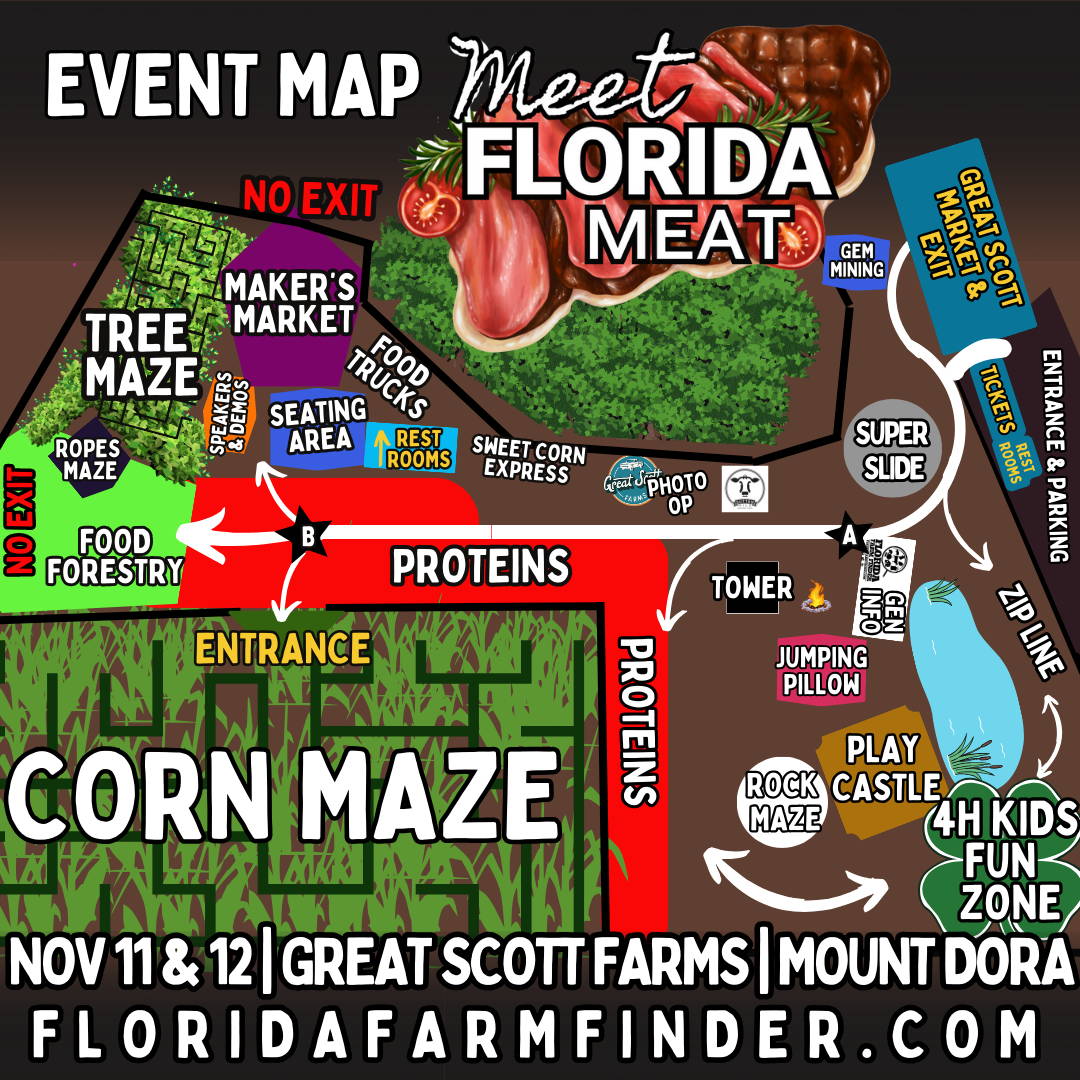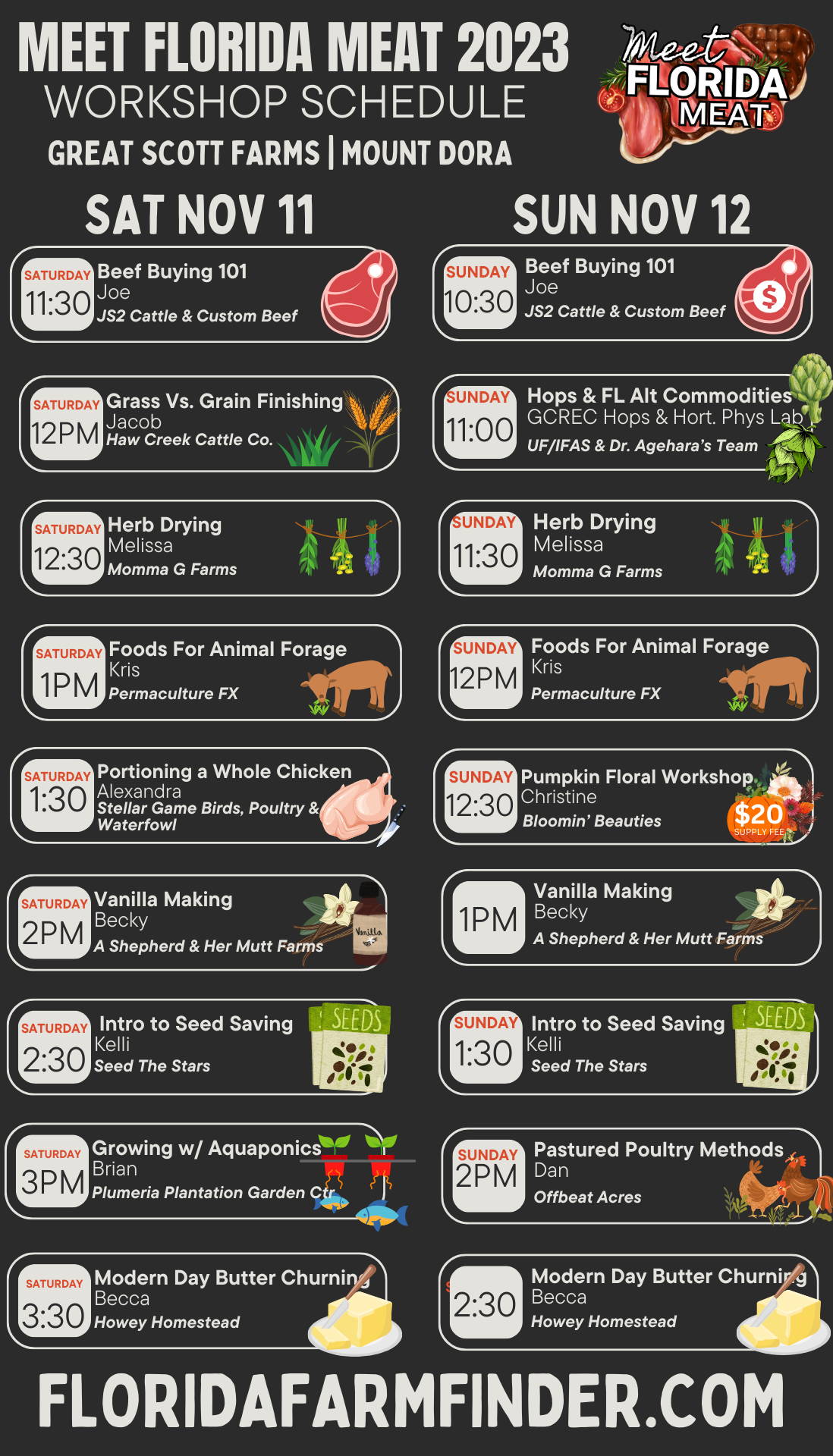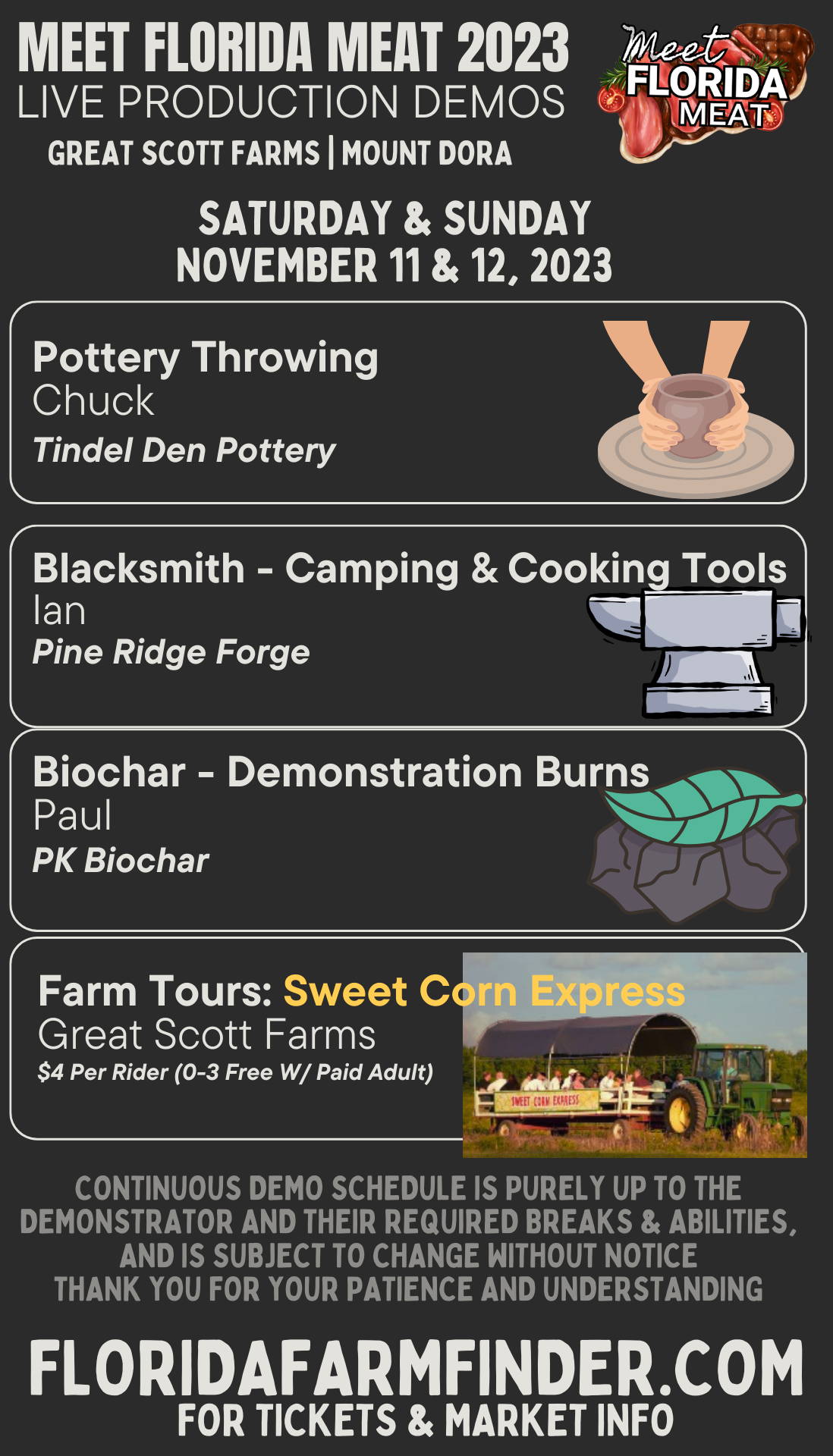 NEW VENDORS IN 2023
Night Owl Custom Creations
Practical Plants
Red Acre Farm
Get Spiked Greens
Those Florida Guys
TJE Seafood
Tindel Den Pottery
Blue Moon Tropicals
PK Biochar
OffBeat Acres
Haw Creek Cattle Company
Kielbasa Bus
Poco Loco Fruta, LLC
Byte Biltong
Double K Farm LLC
Sophie Kate's
Aly-Gator's Sweet Tooth
Meat Sheep Alliance of Florida
Pine Ridge Forge
Atlas Farms LLC
K-N Candied Jalapenos
Mommy Earth
UF/IFAS: GCREC Hops Program & Hort Physiology Lab SUNDAY ONLY
Saddle Up Burger Barn
Noble Roots Food Truck 
FUN STUFF THIS YEAR THANKS TO: 
Christopher's Produce Stand
ACF Central FL Chapter
Howey Homestead
Permaculture FX
Lil Bit of Life
Lake County G.R.I.T.S. 4H
WELCOME BACK TO: 
Milking R Rucks Dairy SATURDAY ONLY
Empire Pickle Company
Quincey Cattle Company
The Reid Farm
The Homesteader's Harvest
JS2 Cattle Co
Overton's Own
Stellar Gamebirds, Poultry & Waterfowl
15 Olives
Momma G Farms
Seed The Stars
Bee Good Honey
The Little Green Oasis
Trinity Ranch Custom Beef SATURDAY ONLY
Twin Mommy Creations
HM Cattle Co (Handley Beef)
Harrison Creek Farm
Lily Hill Farm
Lady D's
YME Apiary
Slow Turtle Farm LLC
DJ's Knives
Local Seas Fisheries
Bloomin Beauties SUNDAY ONLY
Walker Donut Factory
Barb's Creations

Windlestone Ranch
HEY, THANKS FOR VISITING!

DONT FORGET TO BRING SMALL BILLS, A JAR OF PEANUT BUTTER AND A DECORATED COOLER FOR OUR CONTEST!


GET READY TO CLICK OVER TO THE GREAT SCOTT FARMS SITE TO RESERVE YOUR MARKET ENTRY & MAZE PASSES: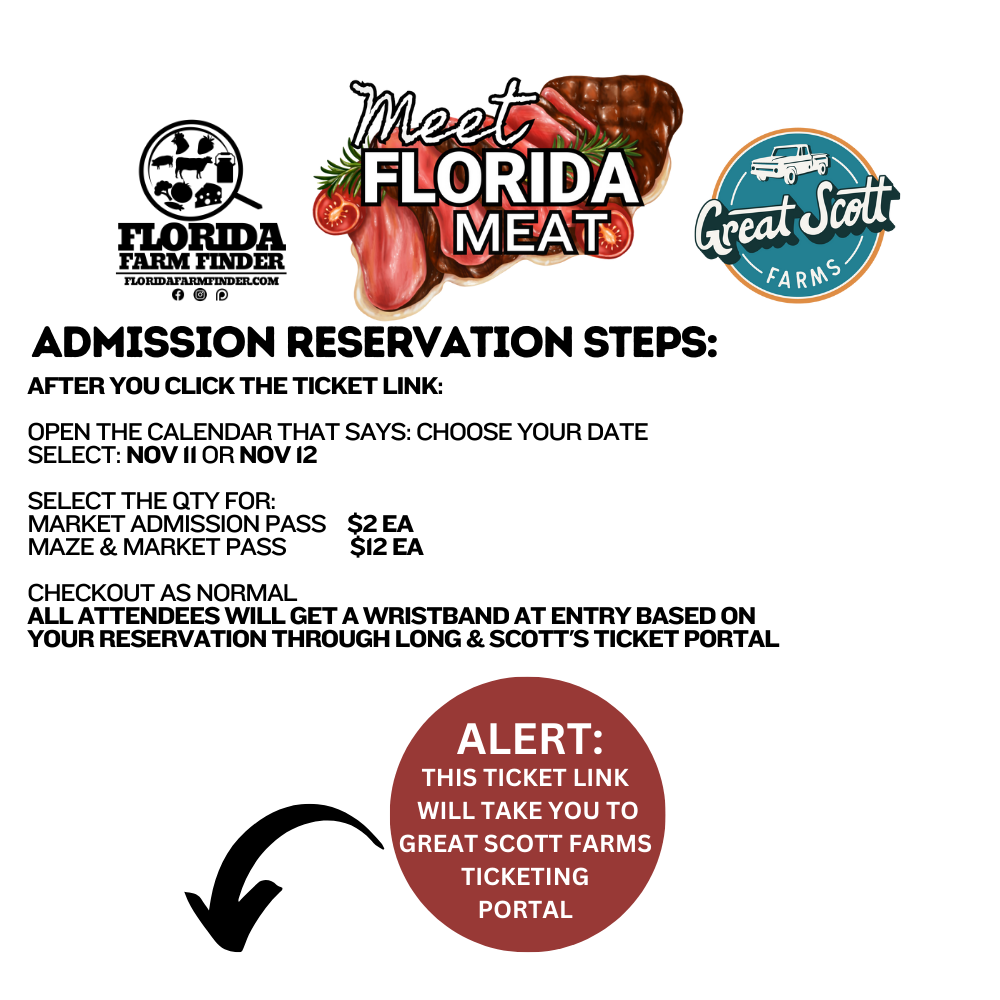 Our Facebook event page is the best place to find the must up to date info about our event, including vendor lists and weather related announcements. Please make sure to RSVP to get notifications when we make new announcements.
(Don't worry, this link will open a new tab.)